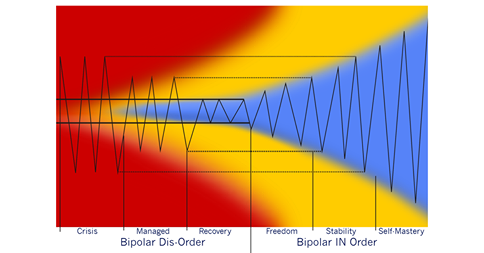 People in remission are still considered to have bipolar disorder.
My recent article called "Why I Am Against Bipolar Meds" turned out to be less controversial than I expected. Some people refused to read past the title and that is unfortunate because the vast majority of those who commented said that it was a very fair assessment of both sides of the debate. There were several misconceptions, though, that need to be cleared up.
I mentioned the three stages of Bipolar Dis-Order and the three stages of Bipolar IN Order assuming most of the readers are familiar with the terms and my work. Unfortunately, that was not the case for many readers. In trying to keep the article to under 1000 words, I did not go into detail regarding the stages and what I mean by Bipolar IN Order.
This caused confusion for several psychiatrists who assumed that Self-Mastery means remission. At the other end of the scale were several people with Bipolar Dis-Order who declared that they were in Self-Mastery when their statements seemed to contradict their self-assessment. It seems greater detail of the Bipolar IN Order concept is warranted.Continue reading