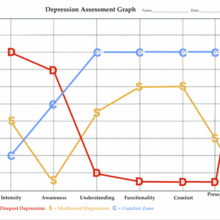 Expanding the depression and bipolar comfort zone.
Understanding the role of comfort is critical for getting Bipolar IN Order. To do so, we must measure comfort at each level of intensity for both mania and depression. When we compare comfort levels to awareness, understanding, functionality, value, and the time before escalation, we find the optimal intensities where bipolar is an advantage in our lives.
In any aspect of life, those who only seek comfort are consigned to mediocrity and boredom. Those who judiciously step outside their comfort zone and challenge themselves are the ones who learn and grow. This is equally as true with mania and depression.
The best growth, though, happens just slightly outside the comfort zone. Too far outside and the lack of comfort can cause you to shrink instead.
Too many times, bipolar people step too far outside their comfort zones and find themselves at an intensity of depression or mania that is far beyond their control. Many of them become so frightened by it they hide inside their comfort zone hoping to remain there the rest of their lives. They accept a diminished story of their lives because they believe they have no other choice. They fear one wrong step will rapidly escalate back to an uncomfortable and out-of-control state.Continue reading